Dubai entices its visitors with many experiences. For couples, the city exudes a romantic charm with opulent, extraordinary experiences. Dubai offers a staggering variety of attractions that should make for a romantic getaway for the couple, whether one is looking to pop the question, planning a honeymoon, or simply wanting to sweep her off the feet during a special occasion. Here are the top 10 things to do in Dubai on a romantic interlude.
1. Romantic Brunch or Dinner dates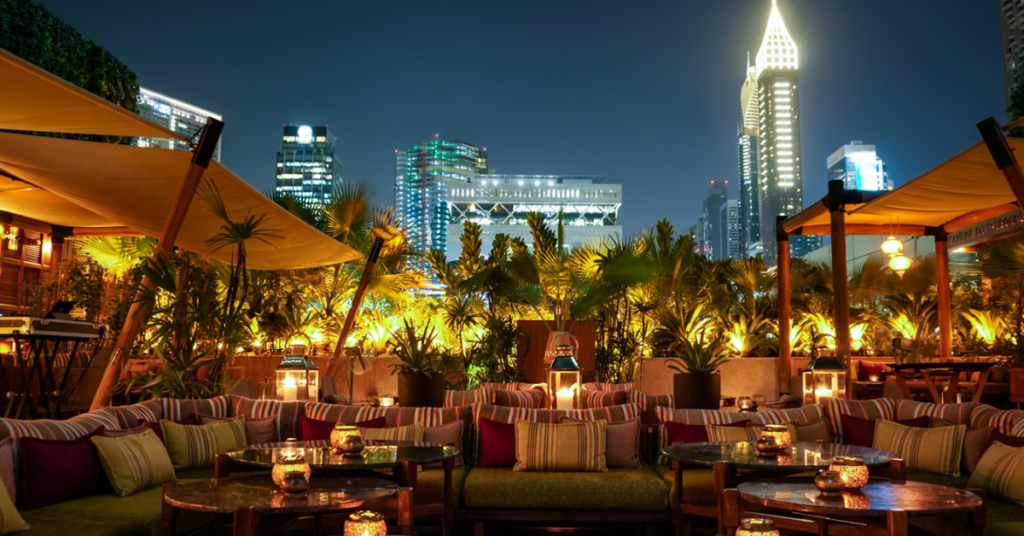 The metropolitan skyline of Dubai is its most beautiful feature. The emirate features some of the world's most stunning and dramatic skylines and city vibes. Most of the emirate's high-end hotel towers are situated with rooftop dining venues with cozy settings that are ideal for romantic brunch or dinner dates. The city also features several stunning beachfront and restaurants with amazing sea views. You should check out the following restaurants if you're seeking some picturesque locations that exude romance while also serving exquisite cuisine.
Alfresco settings: Bar Du Port – Dubai Harbour Pier Club at Dubai Marina, Fi'ila SLS Dubai- Business Bay, Dubai, Tomo – Raffles Dubai.
Beach view dining: Tamoka – Ritz Carlton JBR Beachfront, Nammos – Four Seasons Jumeirah, Koko Bay -Palm West Beach, La Plage by French Riviera – Jumeirah Al Qasr, Lucky Fish – Palm West Beach.
2. Stroll along magnificent fountains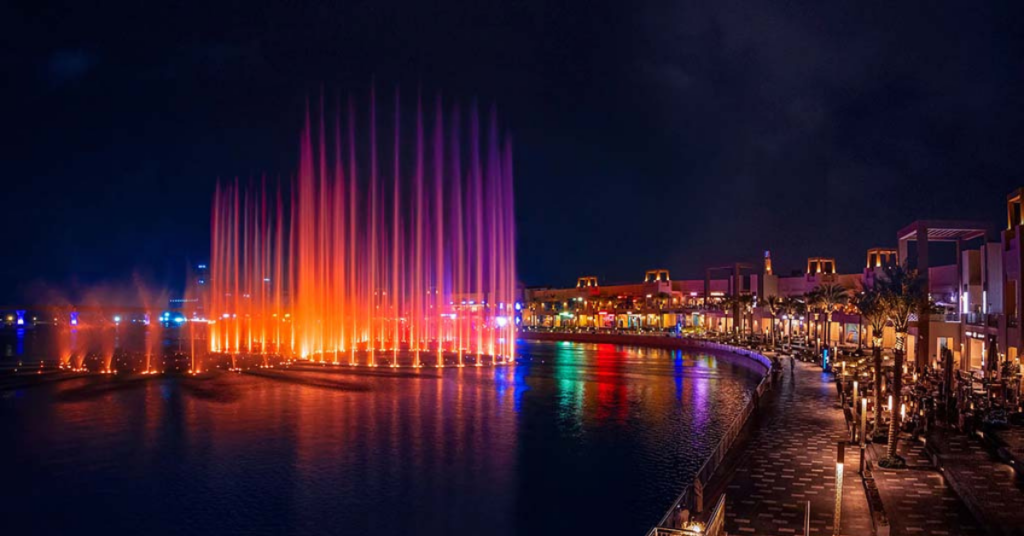 A walk along Dubai's most elegant sites would be a dazzling affair to remember. Both the Palm Fountain at Pointe at Palm Jumeirah and the Dubai Fountain in Dubai Downtown are magnificent venues to spend a romantic evening with your special someone in a unique, mesmerizing setting. Both these fountains put forth the finest water, sound, and light show and are spellbinding to watch on evening romantic strolls.
3. Glamping at Hatta Wadi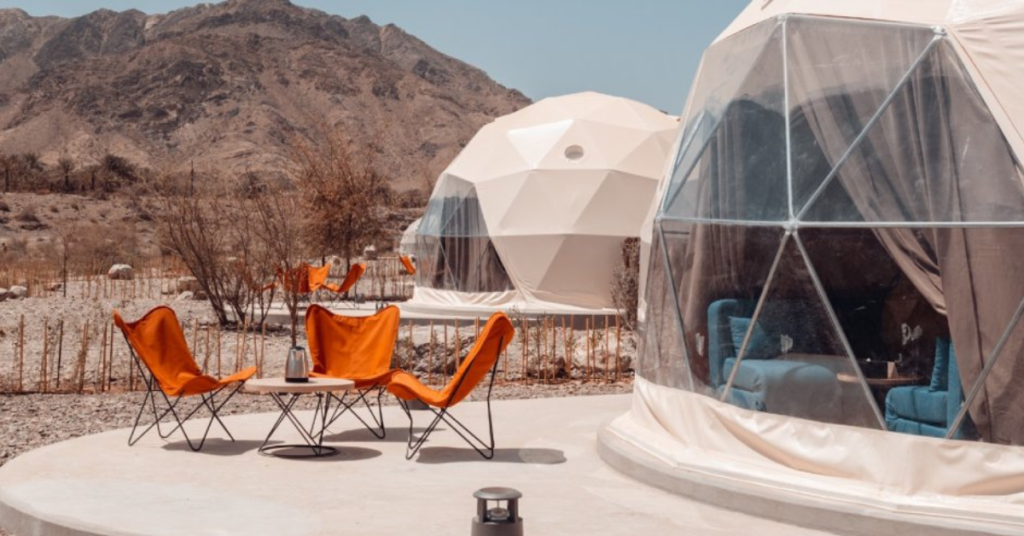 Spending the night in Hatta Wadi away from the neon lights and city vibes and enjoying the mountain freshness and starry skies is one of the most romantic things to do in Dubai. This mountain destination is about an hour and a half's drive from Dubai city and is a wonderful place to have a romantic glamping adventure in a peaceful, remote setting. This is a terrific choice if you want romantic, exciting mountain excursions in Dubai.
4. Spend a day at Dubai Miracle Garden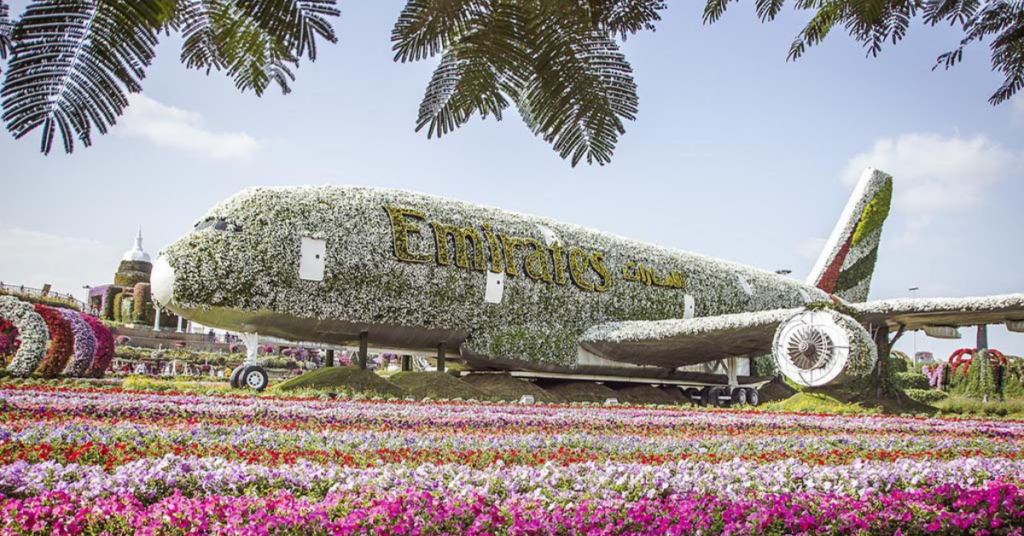 Take your lover to a floral wonderland! At Dubai Miracle Garden, you and your special someone will be surrounded by millions of fragrant blossoms that have been fashioned into huge heart tunnels, fairy houses, and other stunning dioramas. Remember to take plenty of adorable photos in the emirate's most vibrant natural garden. Undoubtedly, it's a great location for Instagram-worthy pictures.
5. Hot air ballooning in the Dubai desert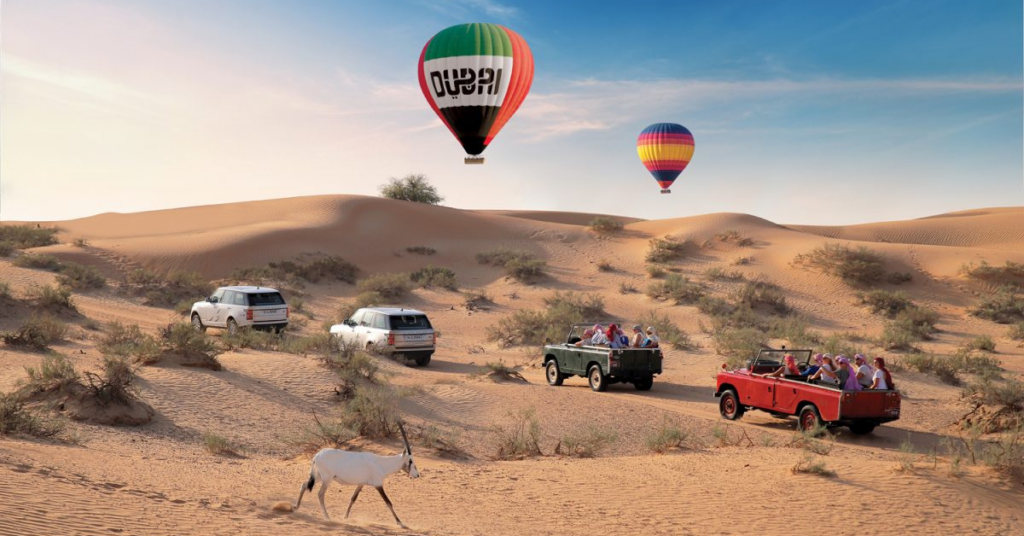 View Dubai's breathtaking scenery from a different perspective in the Dubai desert. Leave behind Dubai's city limits early in the morning, and enjoy a relaxing drive into the vast golden dunes of the Arabian desert. Embark on a hot air balloon ride for a magical carpet-like journey over the breathtaking Arabian deserts. The peaceful desert dunes, shimmering brilliantly in the early morning sun, set the tone for the day. Enjoy a great breakfast later and prepare for a spectacular day ahead.
6. Spoil your better half with a Spa experience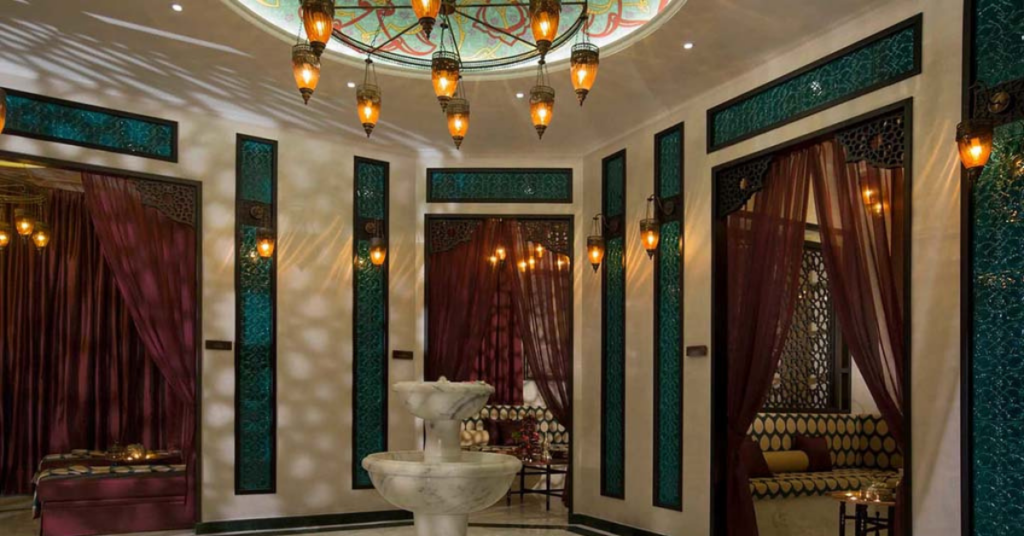 What better way to treat your significant other than with a luxurious spa experience? The hospitality in Dubai is regarded as the finest in the world, and the city is consistently portrayed as the epitome of luxury. With a plethora of luxury hotel chains calling Dubai home, you get ample choices when it comes to elegant spa experiences. You and your loved one can engage in a soul-soothing spa care plan that is ideal for unwinding and relaxing in casual yet exquisite settings. The majority of hotel spas provide luxurious couple spa packages with their signature services. The best spas to check out in Dubai are The Spa at the Address, Talise Spa, Anantara Spa, and Amara Spa to name a few.
7. Stay at an underwater suite at Atlantis The Palm Dubai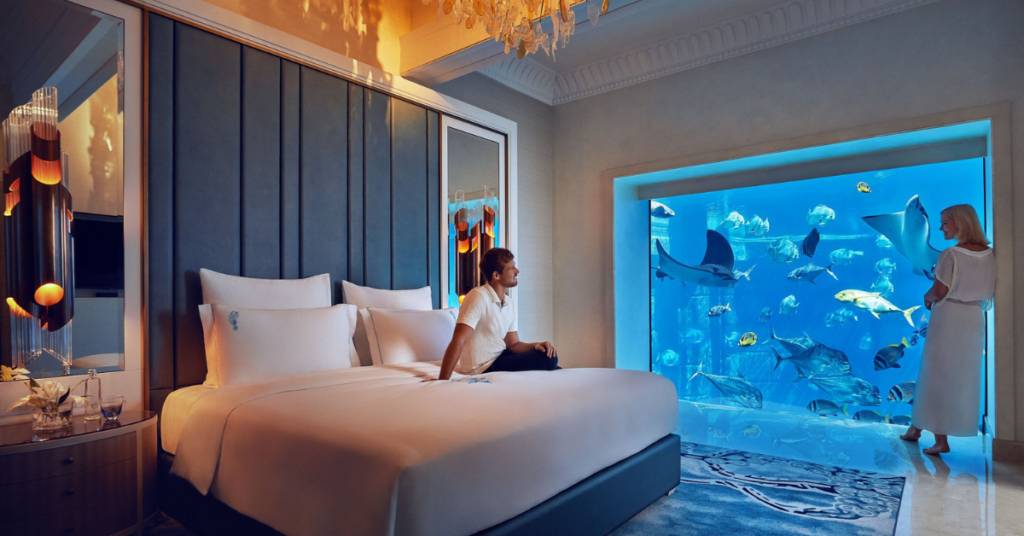 Tweak up the luxury level of your romantic break a notch higher with an extraordinary stay at one of the most opulent resorts in the UAE. Reserve a stay at Poseidon Underwater Suite at Atlantis the Palm Dubai and spend an amazing time living in the ocean realm and watching exotic aquatic life pass by the floor-to-ceiling windows. Enjoy your time in tranquility with impressive services such as private butler service, complimentary airport transfers, free access to the water park and aquarium, and much more! This will undoubtedly be the most memorable stay you have ever had, anywhere in the world!
8. Tour the world at Global Village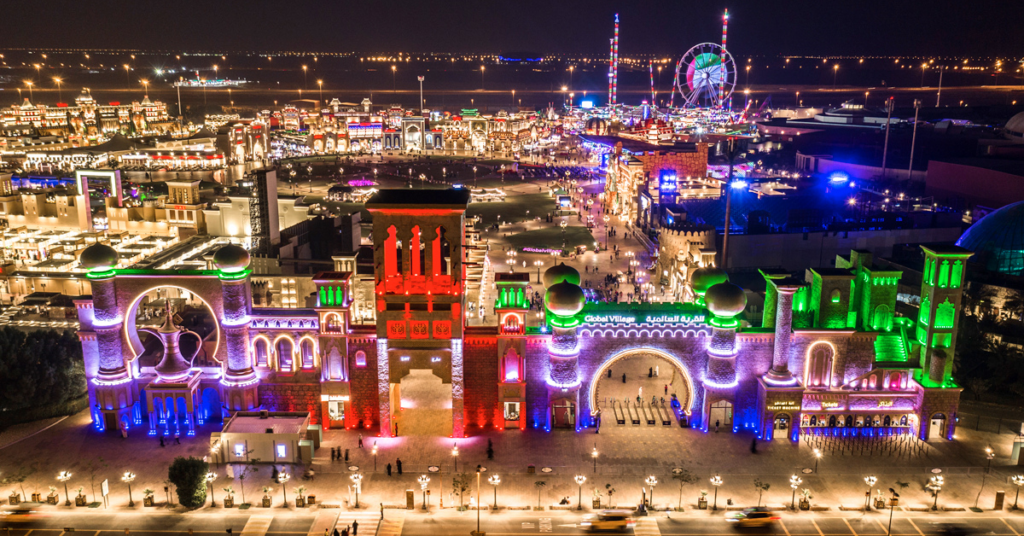 Take a little trip around the world together right here in Dubai! During the cooler months, Dubai welcomes over 90 countries to showcase their culture, cuisine, and craft for locals and visitors alike to appreciate and be inspired by. This is a fantastic place to start to familiarise yourself with destinations you have on a travel wish list that you hope to visit as a couple in the future. Discover the stunning atmosphere of the country, indulge in its delectable cuisine, and decide whether you wish to see it more by traveling there in person. If not, you've already had a taste of what to expect at the destination. This is a fantastic way for you and your better half to experience the world in a matter of days!
9. Spend some nonchalant time at Love Lakes in Al Qudra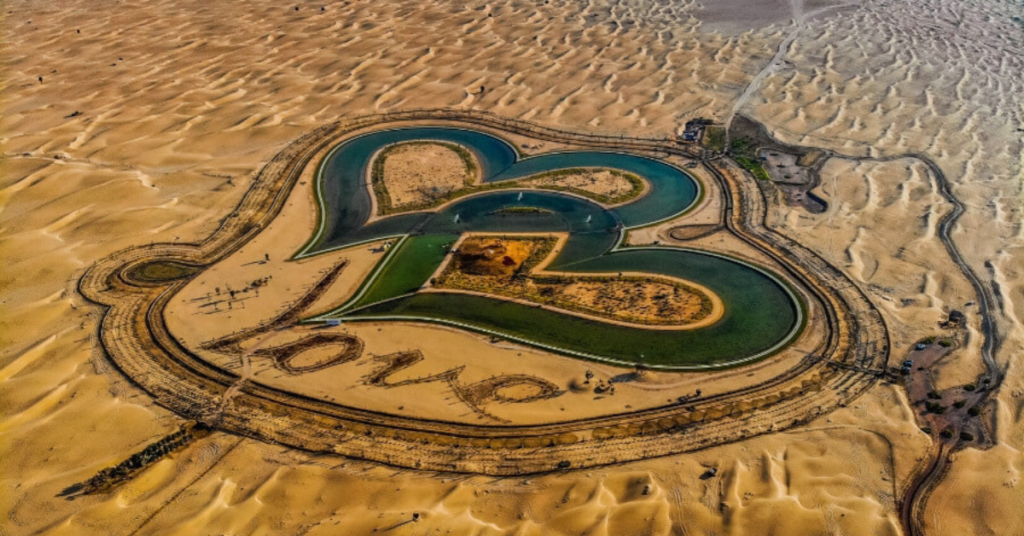 Visit Al Qudra Lakes in the Arabian desert to get away from the hustle and bustle of Dubai city and enjoy the serenity at an artificial lake amidst the gorgeous golden sands. One of the popular romantic attractions Dubai has to offer to its discerning lovebirds is the Love Lakes – two intertwined lakes in the middle of sand dunes. A romantic getaway spot away from the city, this picturesque and serene place brings a sense of peace and tranquility.
10. Explore the city on a limousine ride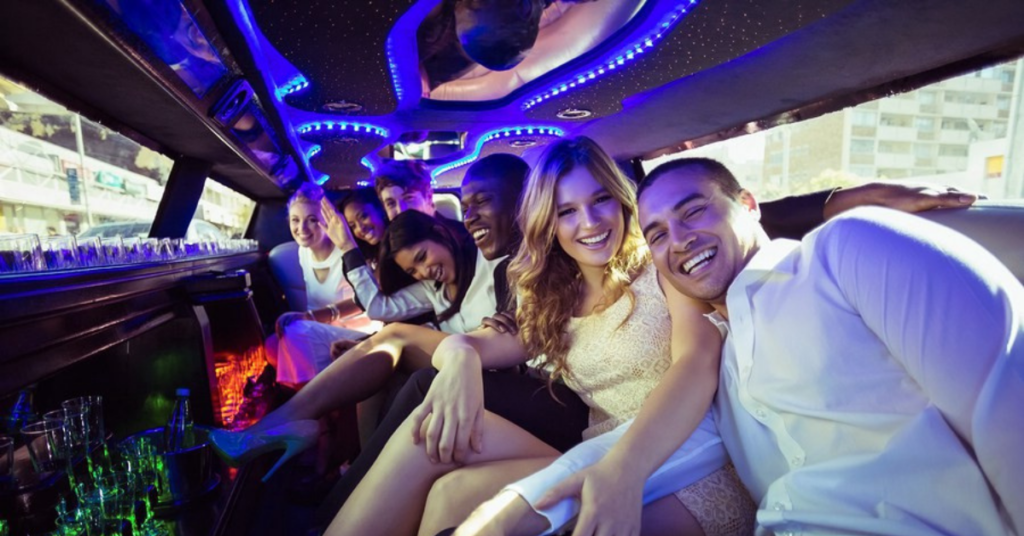 Finally, even if you're on a romantic getaway, you can't miss seeing Dubai's city sights. The shift from a private car city tour to a sleek limousine city tour for a touch of opulence. Enjoy your time with your loved one in plush, comfortable seats in a spacious car with a chauffeur who will take you to the best highlights of Dubai city. All you have to do is relax and enjoy the scenery in the company of each other.
Conclusion
If you are considering a romantic getaway in the Middle East, then you should get a UAE tourist visa online and start planning a Dubai trip right away because it is a perfect destination for couples. In the emirate, you are bound to be wooed with a multitude of unique experiences and a host of beautiful ambiances that you might not want your Dubai romantic sojourn to end as soon as you set foot in the city.