Amritsar as the name signifies the two words: Amrit means sacred water and Sar means Sarovar or river generally called sacred water river. Basically, the name has been taken from the sacred water pool. On which the shrine of Sikhs Golden Temple is located on that pool or Sarovar. Amritsar is also called Ambarsar or Ramdaspur (in the ancient era) because the fourth Guru of the Sikhs Sri Guru Ramdas Ji founded this city as per Sikh tradition.
Why is Amritsar famous for?
Amritsar is famous for its great heritage and significance in the history of Sikhs. There are various shrines and sacred places of all religions situated in this holy city. Places like Golden Temple, Jallianwala Bagh, Wagah Border, Ram Tirth, Gurudwara Shaheed Ganj Sahib, Durgiana Mandir, Guru Bazaar, Gobindgarh Fort, Sadda Pind, and there are lot more places which are located in the outskirts of the district.
What is the historical significance of Amritsar?
Well, who can forget the Jallianwala Bagh massacre? Who can forget the attacks on Golden Temple? Who can forget Operation Blue Star on Golden Temple? Those were the dark times when Amritsar and its people faced these bad sins. But after all that period, this city is proud of its rich heritage and culture, bravery, and valour of Panjabis. Even festivals like Diwali, Vaisakhi, Dusshera, Lohri are celebrated with great enthusiasm among Hindus and Sikhs. There is a popular saying or proverb called "Dal Roti Ghar Di, Vaisakhi Amritsar Di".
And lastly, you might have heard that people say these little proverbs in their homes "Amritsar- Sifti Da Ghar". Sifti is a Punjabi word that means appreciation/compliments.
What are the popular places to visit in Amritsar? Which are the tourist spots in Amritsar?
1. Golden Temple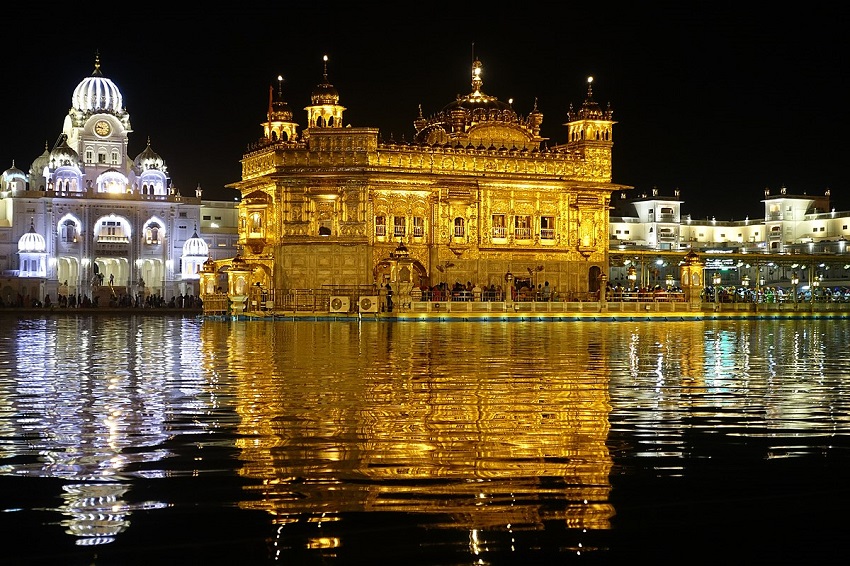 Golden Temple or Harmandir Sahib is a famous place and has a great significance in Sikh history. This is the shrine of Sikhs and it is located on the man-made pool called Sarovar. This pool was completed by Guru Ram Das Ji in the year 1577. Then fifth Guru of Sikh Sri Guru Arjan Dev Ji requested a Muslim Mir Mian Mohammad to lay the foundation stone of the Golden Temple in the year 1589. Then Guru Arjan Dev Ji placed the copy of Adi Granth in 1604 in the temple. Golden Temple has witnessed various attacks during the Mughal and Afghan periods. But time and again Sikhs gave a befitting reply to every attack in one form or the other. In 1809, Maharaja Ranjit Singh Ji renovated the whole temple with gold foil and changed the architecture of the gurudwara. That's why it has been named as Golden Temple.
2. Jallianwala Bagh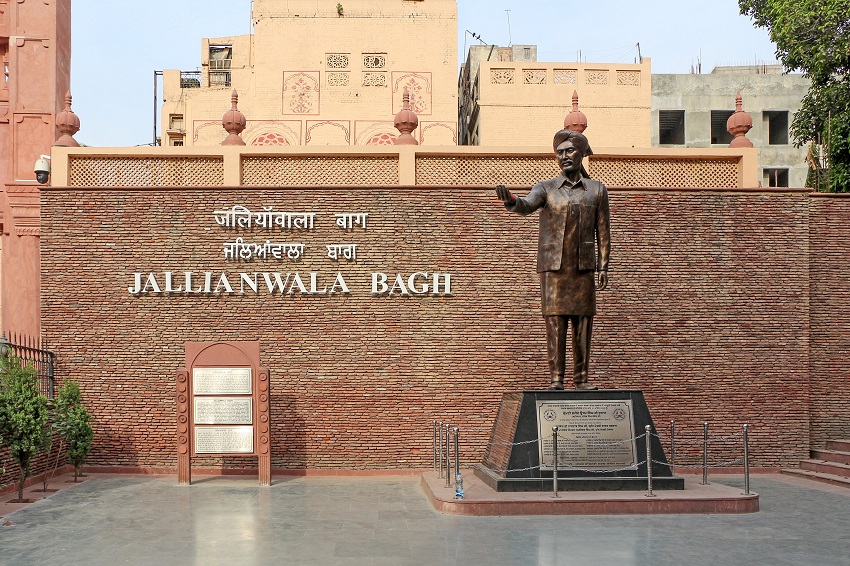 Well, you guys must have heard about Jallianwala Bagh in your life or some history books. If not, then you should read this stanza carefully.
Basically, it was a memorial park until the massacre. The infamous park is known for the genocide by the British troops or you can say the British army. On 13th April 1919, people were celebrating the Vaisakhi festival in the park, and also they were peacefully protesting for the two national leaders Satyapal and Saiffudin Kitchlew. Then Brigadier General Dyer entered the park with his army. They blocked the only entrance of the park and started firing on unarmed people. That cruel person did not even see children and women, he just fired a lot of bullets. As a result, thousands of people were killed and sacrificed their lives. General Dyer was criticized for his inhuman act but highly appreciated by the Britain govt.
Consequently, in 1940 at the age of 75 Dyer was shot by Indian freedom fighter Sardar Udham Singh in London. This was a retaliation attack related to the massacre at Jallianwala Bagh.
3. Wagah Border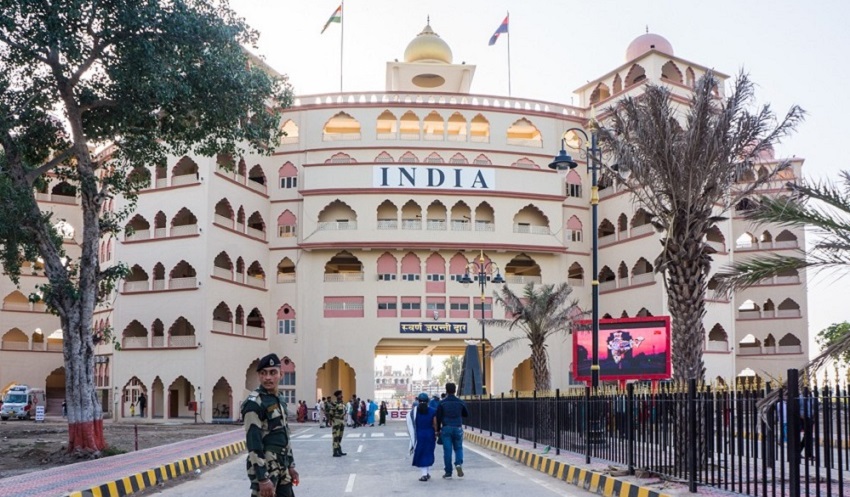 Wagah is a small village situated near the Indo- Pak Border. This border is famous for transportation between India and Pakistan. This border or partition is 24 km from Lahore and 32 km from Amritsar. There is also a railway station called Wagah Railway station. Attari is a small town that is adjacent to the Wagah.
In the evenings, there is a Wagah-Attari retreat ceremony happens between Pakistani Ranger and Indian Forces. People gather here to watch all the activities like hoisting flags, salutes between Indo-Pak soldiers, etc.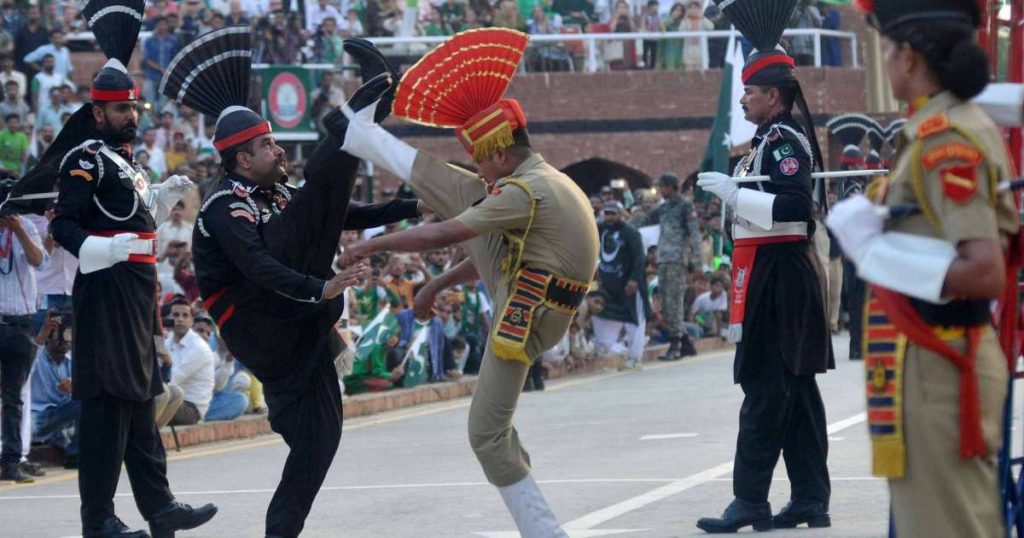 The above image shows the great rivalry between India and Pakistan.
4. Gobindgarh Fort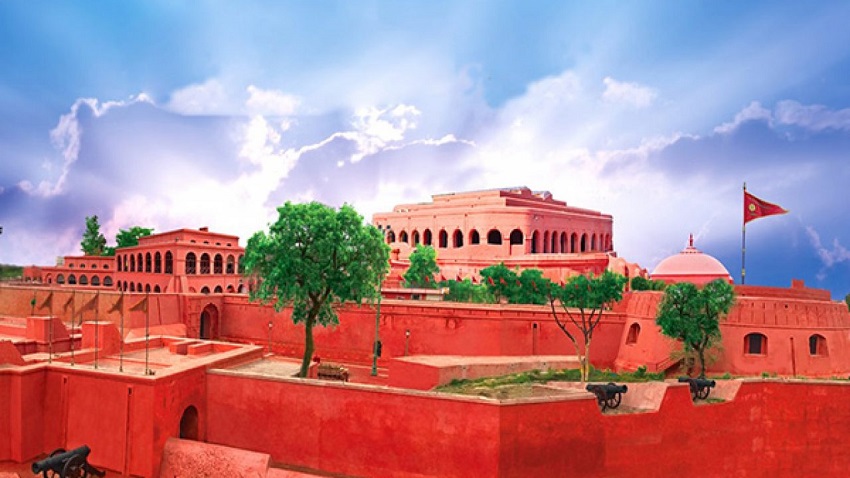 This fort was built by Dhillon Jat Misldar of Bhangi Misl in the year 1760. It was renamed after the tenth Guru of Sikh Sri Guru Gobind Singh Ji by Maharaja Ranjit Singh Ji. This is a historical military fort located in the heart of the city of Amritsar. Recently in the year 2017, it was opened to the public (earlier it was occupied by the army. The Fort is totally renovated as a theme park or you can say a museum of ancient things or architecture.
This fort is made of bricks and lime and its shape is square in nature. The main entrance of the gate is called Nalwa Gate which is named after Hari Singh Nalwa and the rear entrance is called Kellar gate.
5. Sadda Pind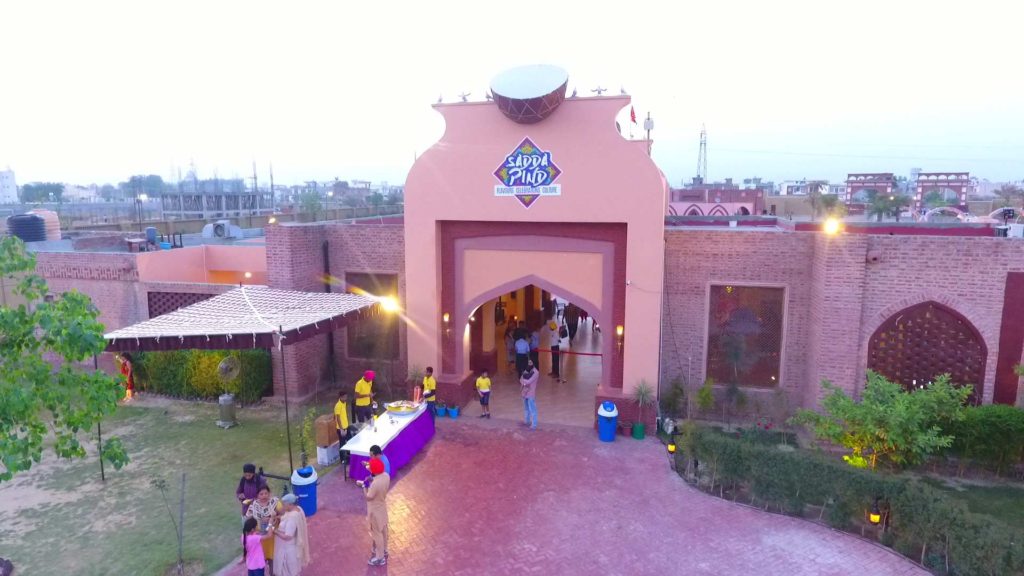 Sadda Pind is a famous tourist spot in Amritsar. It is located around 8 km from the Golden Temple. So if you are planning to visit Amritsar on a weekend, then this is the best place you can ever visit. You can explore the Punjabi cuisines, culture, flavors of villages, etc. It helps you to rejuvenate and reconnect with yourself and your culture. Bhangra, Sarson da Saag, Gidda, some fun rides are the key ingredients of your visit. Make sure before entering, you should have some 1000 bucks for yourself to visit and accommodation. You can also visit the official website for more information.
6. Bhagwan Valmiki Tirath Sathal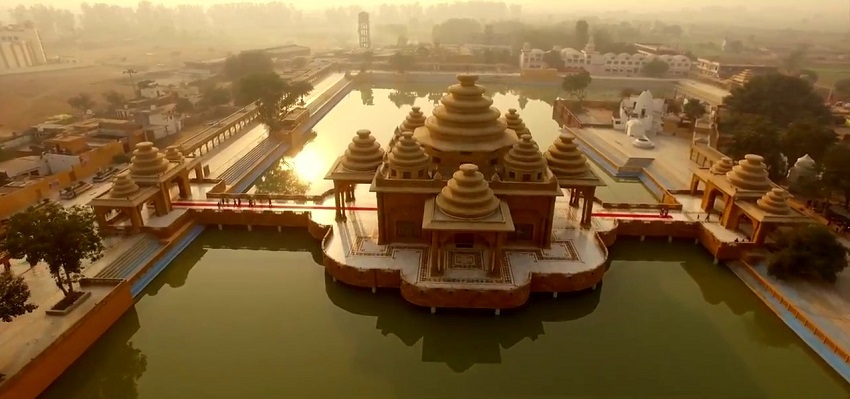 As per Hindu mythology, this place is considered an inseparable part of Ramayana. At this tirath sathal, Bhagwan Valmiki wrote the whole Ramayana. It is also the birthplace of Rama's sons Luv and Kush. Sita was abandoned by Rama after the Lanka war between Ravana and Rama. Then she stayed here for several years and gave birth to two sons. It is also said that the fight between Rama and his sons took place at this place.
7. War Memorial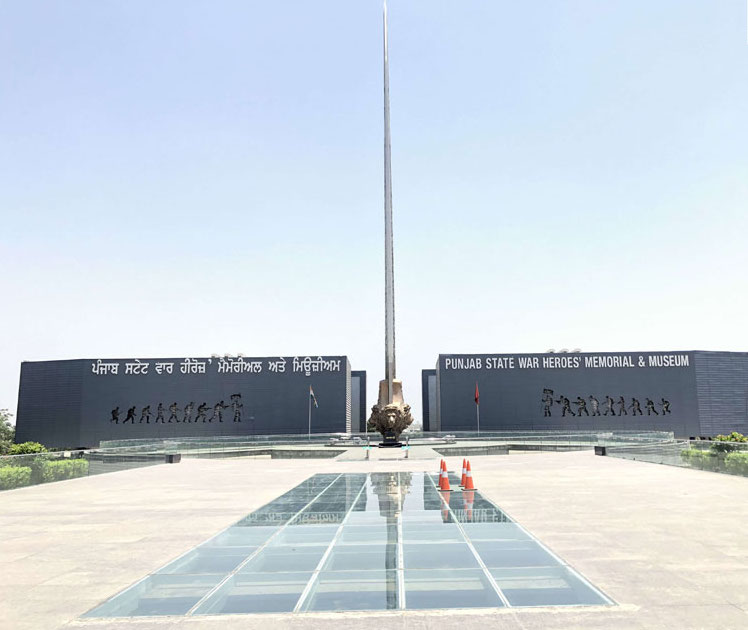 The full name of the War Memorial is The Punjab State War Heroes Memorial and Museum. It is located on the outskirts of Amritsar city. This seems to be a prominent place since this is just 18 km away from the international border i.e Wagah Border.
This museum signifies the bravery and gallantry deeds of the martyrs who sacrificed their lives. Around names of 3500 martyrs are carved on the memorial built at an elevation of 4 meters.
You would be amazed to see that there is the world longest or you can say the world's largest sword is erected on the central edifice. The sword is around 45 meters in height and the material is stainless steel. It represents the audacity and valor of the people of Punjab who defended the nation in times of crisis.
8. Durgiana Temple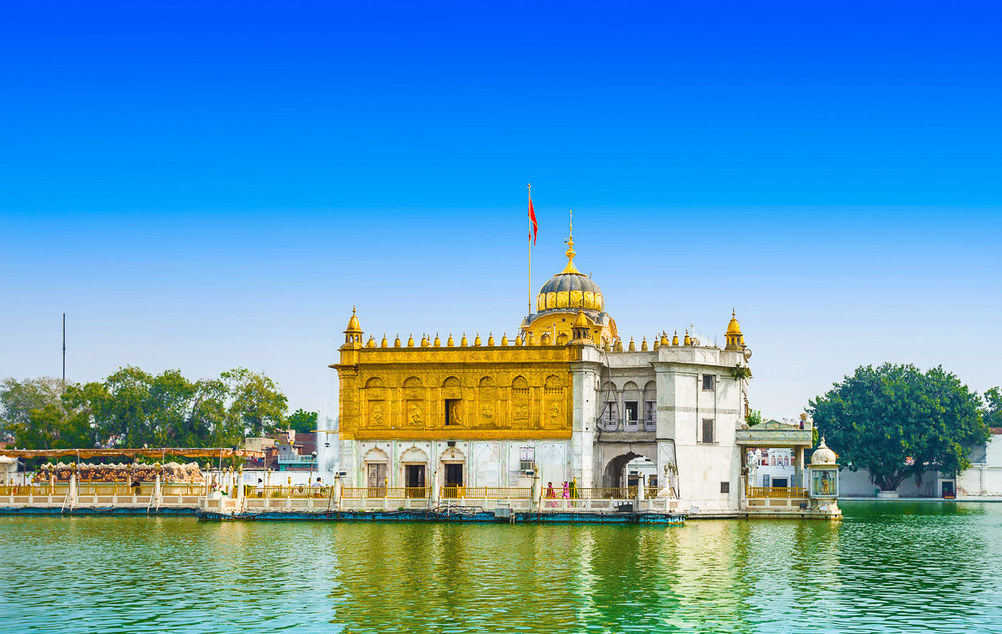 Durgiana Temple is also called Lakshmi Narayan Temple, Durga Tirath, or Sheetala Mandir. Its name is derived from Goddess Durga. It is located in the heart of the city near Lohgarh Gate.
Some people might be thinking that it should be Golden Temple but no its architecture is almost similar to Golden Temple, it is a Hindu Temple which is around 5 km from Darbar Sahib. In 1921 Sheetala Madir was rebuilt by Guru Harsai Mal Kapoor. Harsai Mal was a scion of Prithi Chand Mina. Then Pandit Madan Mohan Malviya inaugurated this temple.
9. Gurudwara Shaheed Ganj Sahib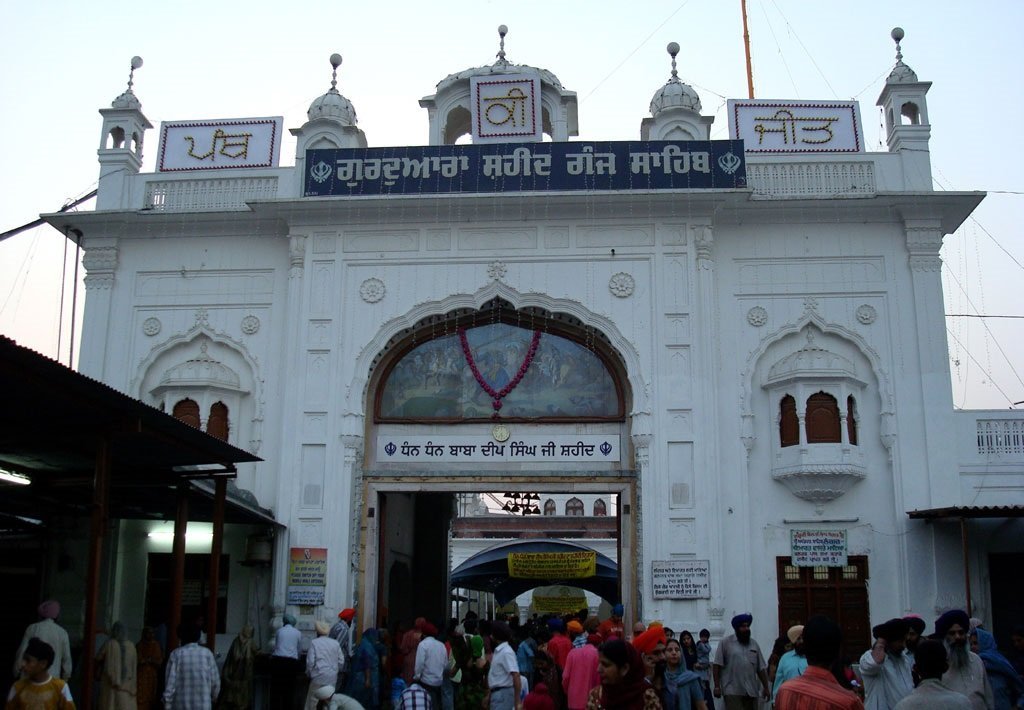 You might have heard about Baba Deep Singh Ji, well known and very brave martyr and Singh in Sikh history. This gurudwara was made to commemorate Baba Deep Singh Ji and other martyrs since the cremation was carried out on this land.
Jassa Singh Ramgaria did construction and rebuilt this memorial to this martyr. The SGPC committee renovated and enlarged the whole Gurudwara in the early 1920s.
10. Partition Museum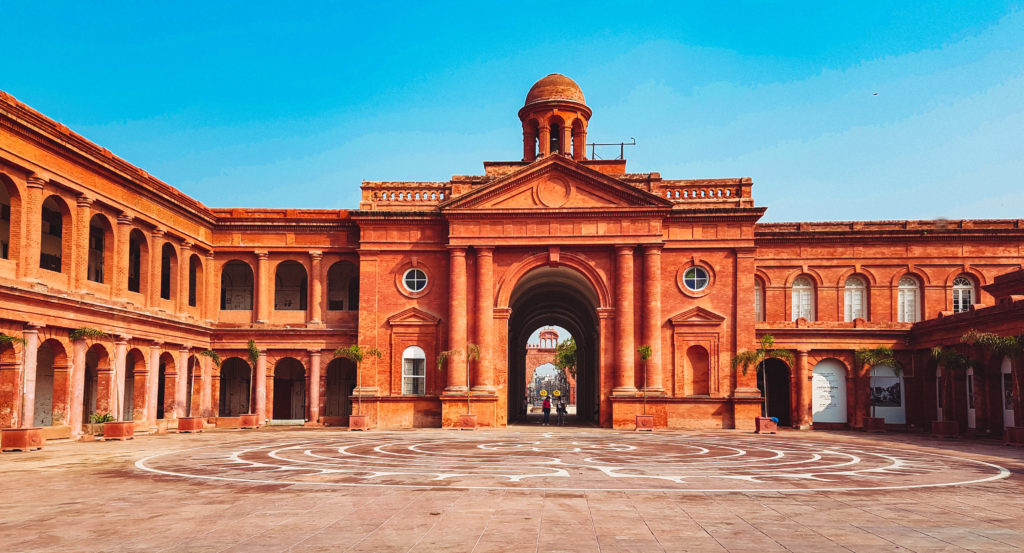 Partition Museum has been set up recently by the Punjab Heritage Tourism and Promotion Board and The Arts and Cultural Heritage Trust. It is the world's first museum which was built on the partition.
In 2015 some dedicated people decided to reshape this museum. After a lot of discussion with leading experts, scholars, historians, researchers, authors, filmmakers, journalists, etc, this museum was set up meticulously. In October 2016, this museum was opened for the public, four gallery exhibitions were carried out and the Chief Minister of Punjab inaugurated the museum.
Then on 17 August 2017, then CM Captain Amarinder Singh dedicated this museum to the nation. It was commemorated as Partition Remembrance Day in tribute to millions of people.
Well if you are interested in the aerial view of Amritsar city then check out the whole video below which was captured through the drone.