Nathula Pass is situated in the east of Gangtok, the capital of Sikkim. You will have to drive through the road to reach the Nathula Pass from Gangtok. And first and foremost thing, you must carry valid and authorized Indian documents to visit the pass. Only SUVs or 4×4 cars are allowed since they are sturdy for these off-track roads. You can also hire vehicles like Innova, Bolero, etc for this trip. This Nathula Pass was closed for some reasons with China. It was sealed for around 4 decades for suppressing the Tibetan uprising. In 2003, Atal Bihari Vajpayee visited China, then this route was resumed by China. The roads are very off track, slippery, and consist of slush due to rainfall, so please be careful while driving on these roads. You must visit the top 5 breathtaking tourist spots in Nathula Pass with your family and friends which we have jotted down below:
Top 5 breathtaking tourist Spots in Nathula Pass
1. Mera Bharat Mahan Hill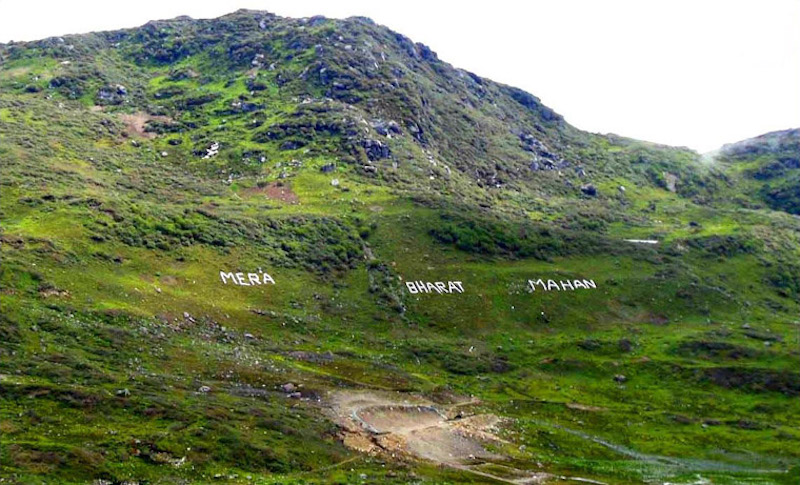 Mera Bharat Mahan Hill comes on the way to Baba Harbhajan Singh Mandir. It is written in very big writing in the hilly part that it could be seen from a very far view and also it gives some patriotic feeling. So make sure, this hill should be in your checklist otherwise, the trip to Nathula Pass will be nought. This trip will surely be a second innings for your life and so keep your memories and diaries intact to write some great content of this trip.
2. Tsomgo Lake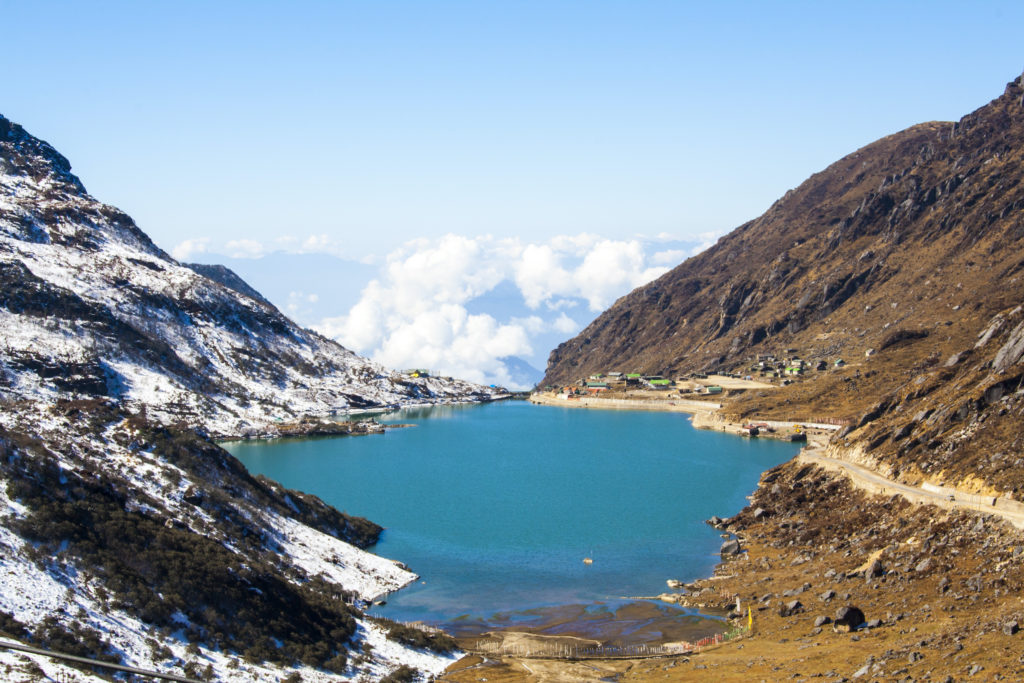 Tsomgo Lake is located at an altitude of 12,400 ft above sea level and you will have to attain special permits from Tourism And Civil Aviation Department of Sikkim and also make sure your body should be fit and healthy to travel in this pandemic time. The melting snow of the gigantic mountains surrounded by turquoise water is very pleasant and pristine scenery to watch with your lovely friends. People say beauty lies in the eyes of beholders. The trip to Tsomgo Lake is useless if you don't watch Brahminy ducks and the frozen lake in winters. This is one of the most awestruck lakes near Gangtok.
3. Mandakini Waterfalls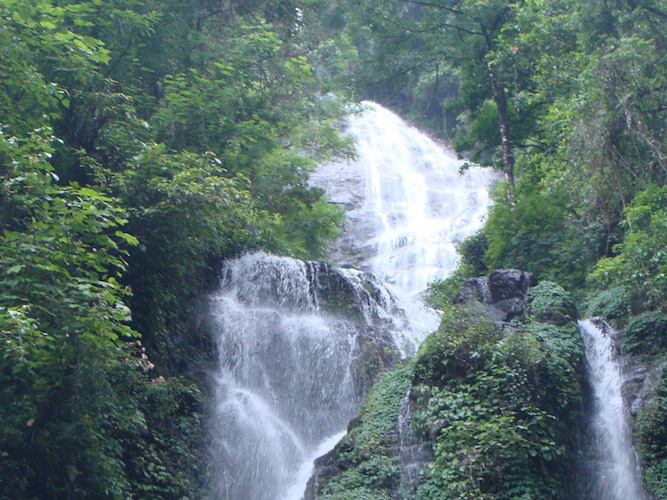 The another beautiful halt in the journey of Nathula Pass is Mandakini Waterfalls. Get ready to eat some snacks and click selfies and do some photoshoot to make this journey more entertaining and sassy. The beauty of Sikkim increases with the addition of Mandakini Waterfalls. Enjoy the glimpse of this waterfall and spend your precious time. You don't need to trek over there, just do swimming in the cold water with your baes and cherish this lifetime beautiful experience. So what are you waiting for? Pack your bags, roll up your sleeves and get ready to enjoy the beautiful waterfalls in Sikkim.
4. Indo-China Border Staircase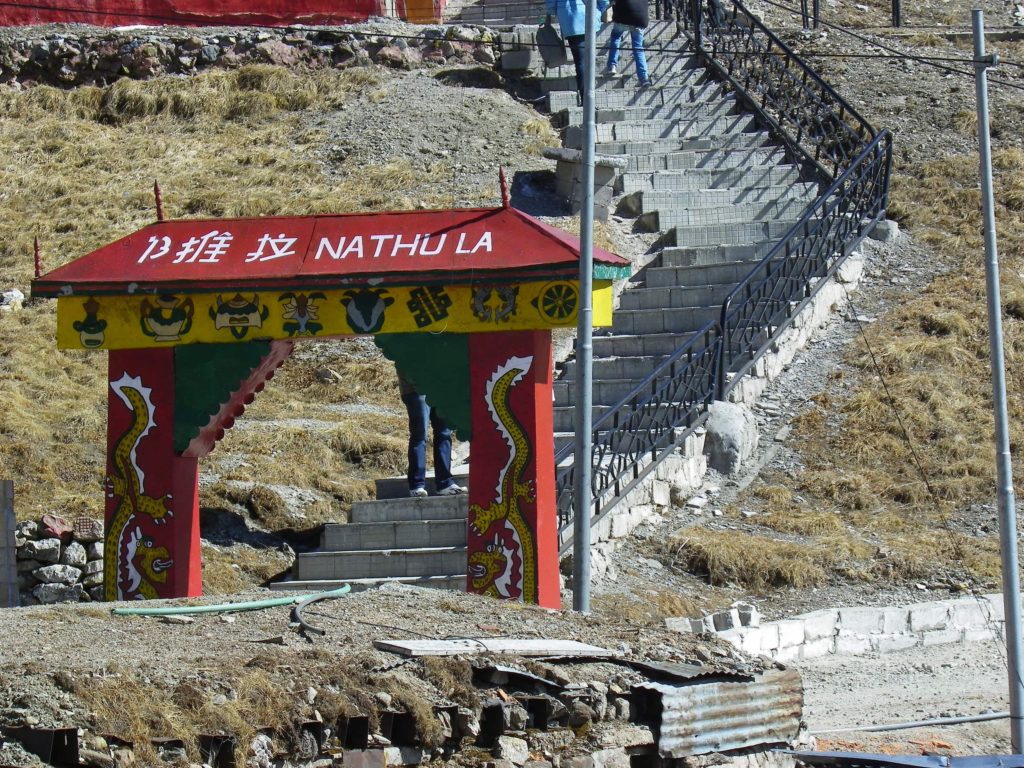 Who would like to visit Staircase to Indo-China Border? The steep and sleek roads from Gangtok take you to a staircase leading to the beautifully fenced Indo-China border. You just need to climb the slope, walking the stairs slowly and take some ample rest in between. Voila, you will reach your desired destination with some hitches and glitches. Roam here and there, click some photos and enjoy the glimpse from the steep steps. The awesome and serene views will blow your mind away. This place has a lot to offer which every globetrotter would not want to miss.
5. Baba Harbhajan Singh Mandir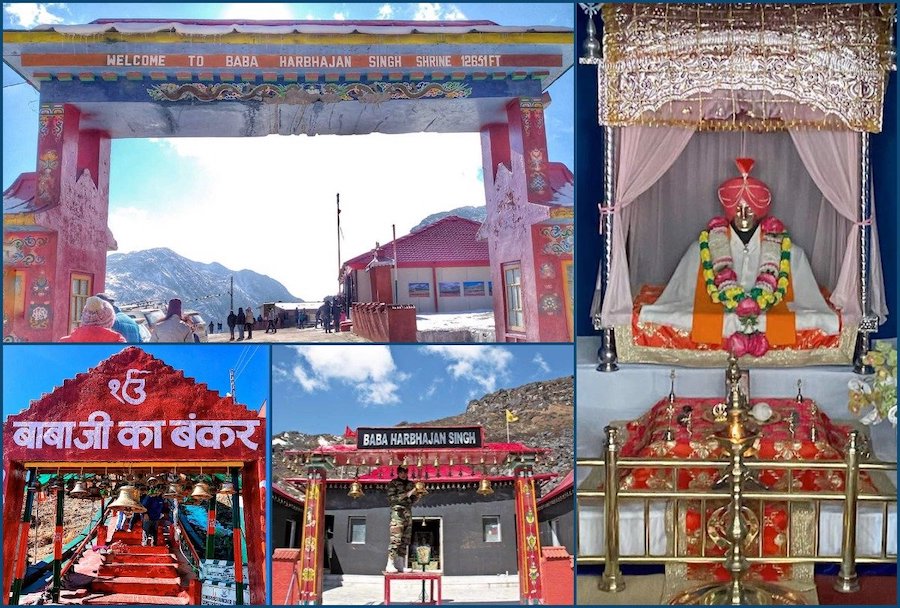 Soldiers are known for their valour and bravery. They win or lose battles for the sake of their country in the lifetime. But what if we say that one dead soldier who is still protecting his motherland from unwanted elements. His name is Baba Harbhajan Singh. Even the shrine is built in the memory of Baba Harbhajan Singh. This shrine is called Baba Harbhajan Singh Mandir by the locals. This Mandir is one of the beautiful temples in Sikkim. He was Indian army personnel who died near Nathula in 1968, which is a popular sightseeing spot in Sikkim. The new temple is built at the junction of Kupup Gnathang road and trail to Menmecho Lake. Salute to that soldier from ShriTravel Team.
The whole trip will cost you around Rs 5,000 to Rs 7,000 and most importantly, in this pandemic time, you need to be extra cautious and careful while traveling. Hope you like the above article of the top 5 tourist spots in Nathula Pass and share your views with us by commenting us below.